Raising bebés bilingües? Latina magazine has got your back this holiday season! The editors sifted through countless toys and books to track down 12 of the best regalos that you could give your hijos: "12 Gifts That Will Have Your Kids Saying You're the Best Mami in the World."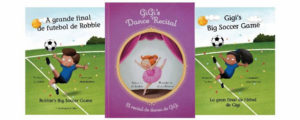 We're so incredibly honored that Latina magazine included Snowflake Stories bilingual personalized children's books in their "Holiday Gift Guide"! Like many Latina moms in the U.S., we understand the importance of passing Spanish on to our children. Reading bilingual books to your children is a great way to reinforce Spanish at home. So why not give the gift of reading–reading bilingual books–this holiday season?!
Since we all love fútbol, The Big Soccer Game, which can be personalized for a boy or customized for a girl, makes un regalo perfecto. If you have more of a princesa on your hands, Dance Recital, which can be personalized for girls, is another libro bilingüe y personalizado maravilloso that you should consider adding to your home library.
About Latina magazine
Latina magazine was founded in 1996, and has a readership of 2 million bilingual, bicultural women in the U.S. It is the largest magazine edited by and for Latin women.
The mission of Latina magazine is to "entertain and inspire women with award-winning content that covers Latin culture, style, beauty, food, music and celebrities." Editors at Latina keep the unique needs and lifestyles of Latinas top-of-mind. This enables the magazine to continue  "celebrating the culture, honoring the past and enriching the future of Latina women in the United States."