Area resident, Jill Barletti, and Croatian illustrator, Jelena Brezovec, entered their second collaboration in the 18th annual International Latino Book Awards. The duo's personalized children's book, The Big Soccer Game, which is available for boys as well as girls, won five awards.
In the article written by Sandra Diamond Fox, Barletti states that of all the awards that her books have won, the International Latino Book Awards mean the most to her. This is because she is competing with authors, many of whom speak Spanish as their first language, while for Barletti, Spanish is her second.
Barletti attended the awards ceremony, which was held in California; at the event, Pepe Serna, most famous for playing the role of Angel Fernández in Scarface, presented her with one of the awards. That was a real high point for Barletti.
It should be noted that The Big Soccer Game, like Barletti and Brezovec's first book Dance Recital, is available in bilingual and single-language versions in any of five languages: English, Spanish, Portuguese, French, and Italian. Unlike Dance Recital, which is only available for girls, The Big Soccer Game can be customized for a boy or personalized for a girl.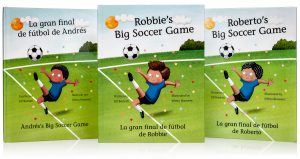 The full article can be found at the Daily Voice.
About the International Latino Book Awards
The International Latino Book Awards (ILBAs) are produced by three orgnaizaitons: the non-profit organization Latino Literacy now, founded by Edward James Olmos and Kirk Whistler; Las Comadres de las Américas; and REFORMA, an affiliate of the American Library Association, which promotes library services to the Spanish-speaking in the USA.
In 2016, books were submitted to the International Latino Book Awards from authors in 16 countries and the U.S.
Past winners include internationally renown authors such as the 2016 Newbery Medal winner Matt de la Peña, Mario Vargas Llosa, Gabriel García Márquez, and Paulo Coelho, in addition to Univisión's news anchor/reporter Jorge Ramos, and Supreme Court Justice Sonia Sotomayor.
2016 marked the 18th year of the awards. Since its inception, the ILBAs has grown to become the largest Latino literary and cultural awards in the USA.