Hopefully, by now, the kids have had some time to relax and recover from the hectic school year schedule. (And I hope that you, the parent, have as well!) But it's time to face reality, and the reality is that summer slide is real. According to the Johns Hopkins School of Education, if your children are not engaging in activities that require them to utilize academic skills, they can lose two months of math and reading achievement.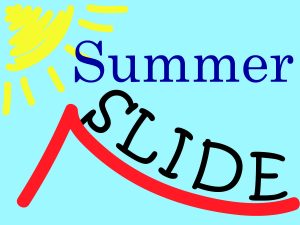 Regardless of the facts, it's tough to get kids to think about academics during the summer. This is especially true when the schools assign summer work. In my town, even elementary school students have assignments to complete over the summer. While the school-required assignments help, it isn't enough to prevent summer slide. So I have compiled a few ideas to help children of all ages prevent summer slide.
Reading: How to get your kids to read more?
1) Find books relevant to your activities. Are you going to the beach? Check out a book on seashells and how they're made or read articles about how the master sand sculptors in Ft. Myers, FL create their works of art. (You don't have to read books all the time!) Are you planning a trip to the zoo? Borrowing a book about your favorite animals prior to the visit will make the excursion more enjoyable. Even if you can't afford to take a trip this year, let your kids plan their dream trip. (I do suggest omitting amusement parks from the list of potential vacation spots, unless they plan to read Walt Disney's autobiography.) If your kids learned about California's La Brea tar pits this year in school, maybe they should read more to see if it's really where they would want to visit. If Spanish is a class your children take in school, they could read up on a few different countries where Spanish is spoken to help them decide which country interests them the most.
2) Start a Book Club. I don't meant that you have to round up all the neighbor kids and assign three chapters per day (although you could). What I really meant is that you as a parent could read a book that your child is reading. If you have multiple children, who are close in age and reading level, you could all read the same number of pages each day and discuss the book over dinner. Even older kids appreciate book discussions; during the school year both my middle schooler and my high schooler (yes, I started my family at a very young age) 😉 encouraged me to read one of their books.
3) Read to Your Child. I read to my children until they were in middle school. All it takes is finding the right books. Our favorite was Scholastic's 39 Clues series. I'll bet you that if I offered to read the Divergent series aloud, my kids would plop on the couch with me and listen. Also try funny books with interesting characters; my kids loved it when I read certain characters' lines with funny accents. (Pro tip: after reading aloud for a while, your voice does need a rest; ask the kids to read a chapter.)
4) Let kids read interesting books! I think the most important thing is to help your children find books that they are interested in. For years, my own children have had to read a few books from approved reading lists over the summer. Unfortunately, the lists didn't include many books that they actually wanted to read. My solution: don't stress about the summer reading list. Allow your kids to read a book (or several, depending on the length of the books) before tackling the assigned reading list; the gradual easing back into the habit of reading will make completing the required reading easier to tackle.
5) Encourage your children to read something out of the ordinary. Suggest reading a book written by an author who does not share your race or religion. Pick up a book that stars someone who doesn't look like you do. You may even consider reading a book translated from another language. You (and your child) might be surprised what can be learned by reading something different. There are tons of resources online with great lists of diverse books, including: Pragmatic Mom, We Need Diverse Books.
Math: What could possibly get your kids thinking about mathematics over the summer?
1) Use food to teach math. Yep, that's right, food can get your little ones thinking about math. If they want a chocolate cake, make one with them because most recipes require measuring and fractions. You could challenge your child by making 50% more frosting than the recipe calls for. (It's been my experience that a little extra frosting never hurts!) Your older child could make an entire meal. (However, I would strongly recommend adult supervision of any child's foray into the kitchen, especially when it comes to working with the oven and stove.)
2) Go shopping to practice math skills. If your children enjoy shopping, take them along. They can help yestimate your grocery (or shoe shopping) bill – remember: 0-4, round down, while 5-9, round up. Or, you can work with the real amounts and have your child tell you how much you'll owe and what change to expect; extra points for having your child shell out the correct bills and count the change.
3) Give your kids some good, old fashioned written practice. With a twist, of course! Have your child practice addition, subtraction, multiplication, division, long division, and even algebraic expressions … with pudding! That's right. Mix up some instant pudding, and place waxed paper on the table. Then let your child place a thin coat of pudding on their "writing surface." Using a clean popsicle stick or finger, your child can write out and solve math problems. I recommend doing this around snack time.
4) Play Games to keep your math skills up-to-snuff. You can go the old fashioned route and play Yahtzee or Monopoly work on multiplication and handling money. Building puzzles and playing with tangrams reinforces logic. You can also go the high tech route and look for math games online; coolmath-games.com is one that my children have played.
5) Calculate trajectories. This might sound kind of complicated. But shat child doesn't like a water balloon fight? If you're lucky you might be able to have your child calculate the perfect trajectory for launching a water balloon. Yes, they may have to do some research online, but it would be kind of nerdy fun to be able to talk about the results in math class in the fall. They just might need the right incentive … are you willing to get wet?
Science: Wait … We have to do science over the summer, too?
Yes, reading and math are generally the focus when summer slide is the topic. But summer doesn't mean that you have to stop learning science. And you shouldn't! (Look at how important STEM has become.) Just like getting kids excited about reading is all about finding the right books, science has so much to offer that finding what area interests your child is key.
How to keep your children thinking about science over the summer:
1) Use Astronomy! So, if you're lucky enough to live near an observatory, go! Yes, your child will try to finagle a later bedtime to put into place what they learned, but that's a good thing! And to reinforce, try building the constellations out of marshmallows, as suggested by MunchkinsAndMoms.com, made known to me by @PraxisMedHat.
2) Make a volcano. Let's face it. Ever since we saw the Brady Bunch episode (or trerun) in which Peter makes a volcano erupt all over Marcia and her friends, we wanted to make our own volcano. Why not share the excitement with your child. Bonus tip: Have your kids check out a book on the subject, or at least find the instructions online.
3) Do science experiments. Leave it to Scholastic to come up with a list of 40 experiments you can read about or watch a video of. The list has everything from the Coca-Cola + Mentos rocket to floating a paper clip on water. And depending on how brave you are, you may want to attempt one or more with your child. Surprisingly, PC Magazine offers a slideshare of 12 science experiment videos that you can do with your child – everything from making a rainbow indoors to creating a bouncy egg. (I recommend you watch each of the videos before attempting.) And remember, because this is science, it's bound to be messy!
Writing: Ugh! Not another research paper!
So, reading can take you on an adventure. Math can involve food and money. Science can deal with explosions. What does writing bring to the table? A lot. In order to be successful at anything, you have to be able to communicate your ideas. So practice, practice, practice.
Getting your child to write over the summer isn't as hard as it sounds – Here's how to do it:
1) Start Journaling: It helps create better memories. If you follow the first reading tip and ask your children to read about a vacation spot or day trip, you could take it a step further and have them keep a journal. The journaling will not only provide practice writing, but it also helps to solidify memories. Science has proven that writing things down requires us to process the information on a deeper level, thereby helping us to remember better.
2) Enter Writing Contests. Your child will be more motivated to write a piece if potential prize is involved, right? There are several listed online. PBS has a writing contest for children in kindergarten through grade 3. The Library of Congress has a unique writing contest for students in grades 4-12. And as you might imagine, Scholastic has elementary and middle school writing contests, as well as one for high school students. There are many more contests open to young writers, just be sure to thoroughly research any contest you may have your child enter to ensure that you agree to the terms and conditions. Some contests require an entry fee, others do not. In addition to fees, also consider who ultimately will have rights to the work.
3) Write (gasp!) for fun! If your child has a great idea for an article in children's magazine, look into it. Many magazines accept freelance article submissions. Even if there aren't any specific publications that would accept your child's piece, they could start a blog. My daughter did briefly at the beginning of middle school. It didn't last, but it was fun while it lasted. You never know … this might be the beginning of a book. (There are also reputable book award competitions with categories for young authors, such as Foreword Review's IndieFab awards.)
Bonus Tips:
There are tons of cool games that don't necessarily fit into one of the above categories, in addition to one key piece of parenting advice below.
1) FreeRice.com. Try playing games on this website. Each question answered correctly earns a donation of 10 grains of rice to help stamp out hunger. You can feel good about letting your child play learning games online while they learn and help others. The questions even include foreign language and famous works of art!
2) Duolingo. Interested in learning a foreign language or at least practicing what you have already learned? There's a free app called Duolingo that I've tried and enjoyed.
3) Bribes. If all else fails, I have been known to resort to bribes. It's not as bad as it sounds – think of it more as a "negotiation." Mine have been known to work something like this: "Mami, can we go to the beach this weekend?" – child. "Sure. We can go … as long as you have completed 'x'." – me. That doesn't sound so shady, does it? I sure hope these tips help you in your attempts to prevent summer slide from affecting your children!
NOTE: The above information are my suggestions. I have no affiliation with any of the organizations I mentioned, nor do I take any responsibility for the information and/or services they offer.