Snowflake Stories bilingual personalized childrens books are "essentially a diversity fair all by themselves." So participating in an event that celebrates our differences was a good fit for the company. Afterall, our personalized books for kids can be customized to feature virtually any child and their loved ones.
The diveristy fair was held at one of the larger Home Depot stores in SW Florida. But that's is pretty far from Connecticut. Fortunately, Mom to the rescue! Author Jill Barletti asked her mom to represent Snowflake Stories at this fun, inclusive event.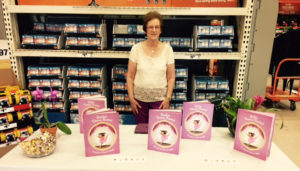 Read more about the diversity fair, published by Naples Daily News / Collier Citizen.
For more information about our books, including the pretty pink customizable Dance Recital  books pictured above, visit our products page; from there, select the dance book or another of your choosing. And feel free to try your hand at customizing characters — there's no obligation to buy  🙂