NEW MILFORD, Conn., October 15, 2015 – As soon as Jill Barletti finished writing her bilingual personalized children's book Dance Recital, she began looking for a developer. She knew it would not be easy to create a website to showcase this innovative book, which has won four awards to date, including a prestigious Moonbeam Children's Book Award, bestowed just last week. Why? The book, unlike other personalized books, includes more than just the name and age of one special child. In customizing, a cast of characters is selected, each of which is tailored to closely reflect the likeness of the child and her loved ones. Language(s) must also be selected, as the book is available in bilingual and single-language versions in any of five languages.
How do you effectively showcase such a highly customizable book? That's where San Francisco web designer James Stone comes in.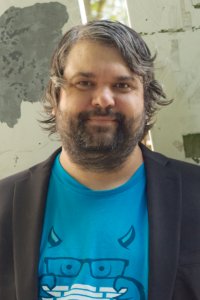 One reason Barletti chose Stone was because of his use of ZURB Foundation to create responsive frameworks for his projects. Stone is hailed as a "Foundation guru" in several tech forums, and rightfully so. Stone penned ZURB Foundation Blueprints, a guide for developers to build websites using Foundation; the book includes nine end-to-end web projects.
Stone said, "I was impressed with Dance Recital's high degree of customization and thought that it would be an interesting challenge to create a website for Jill to showcase and sell her bilingual personalized children's books." Stone, who holds an MFA from Penn State, found creative ways to handle difficult tasks. One of the bigger challenges was enabling visitors to the website to actually see the different characters as they select and customize them, and do so with just a few clicks of the mouse.
Barletti says that the Penn State adjunct professor strikes the perfect balance for any self-funded startup by creating interfaces which are designed to start small but scale as the business grows. The Barletti-Stone collaboration isn't stopping after recently launching Barletti's website: www.SnowflakeStories.com. New pages, including one with videos and blog posts depicting fun activities to do with children, as well as a high-tech marketing campaign, are in the works.
Stone enjoyed working on the project and really likes what the product stands for. "Jill told me how she struggled to find books in Spanish for her own kids and wanted to solve that problem. And, I thought it was cool that, in addition to including the language element, she had the book's illustrator, Jelena Brezovec, create images that reflect different ethnicities as well as different family structures," said Stone.
---
About James Stone:
James Stone  is the author of ZURB Foundation Blueprints, an adjunct professor at the College of Arts & Architecture at Penn State, and a top contributor to the ZURB Foundation project. James has spoken at the HTML5 Developers Conference and TEDxPSU and aims to bring world-class sites and web apps to self-funded startups using the power of ZURB Foundation. For more information about James, please visit www.JamesStone.com, or email him directly: [email protected]
About the Publisher:
Snowflake Stories, LLC was founded on the belief that it shouldn't matter if a child has blue eyes or brown, speaks English or Spanish, or has a single mom or two; each of these children should be able to see herself and her loved ones in her very own personalized children's book. The company is further guided by the principle that just like a snowflake … every child's story is unique.
Snowflake Stories will release a second bilingual personalized children's book completed by the Barletti-Brezovec duo later in 2015. The second book will be for either a girl or a boy.
About the Book:
Dance Recital is the first in a line of highly-customizable, personalized children's books available in bilingual and single-language version in any of five languages: English, Spanish, Portuguese, French, and Italian.
Dance Recital has won the following awards:
2015 International Latino Book Award (ILBA) – (2)
2015 National Indie Excellence Award (NIEA)
2015 Moonbeam Children's Book Award
Dance Recital retails for $34.95 and is exclusively available for purchase at www.SnowflakeStories.com.