A toast …
Get the champagne glasses ready!
This week's tip on how to sound smarter is a brief guide on how to make a toast, infused with grammar tips, of course!
Why are we talking toasts?
I've got some exciting news to share!
Along with our web developer, James Stone, Snowflake Stories was awarded a silver Davey Award for the Character Builder on SnowflakeStories.com.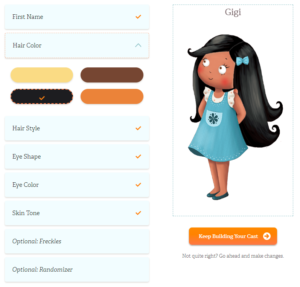 For those of you who don't know, the Davey Awards honor the best work in web, design, video, advertising, and social created by small agencies.
It's our Character Builder that allows character in one of our bilingual (or single-language) personalized children's books to be customized.
We were really excited to receive the news that we had won an award.
Unfortunately, we're not traveling to a fancy awards ceremony to give an acceptance speech this time around.
But the award did get us thinking about how hard it can be to put together a brief speech or even a toast, especially on short notice.
Chances are you will have to say a few words, if you:
have close friends tying the knot,
are close to a coworker who will soon be retiring, or
will be accepting an award.
And you don't want to fumble through it. … That wouldn't make you sound smarter!
So, let's dive in. I've synthesized tips from Anett Grant, Steve Faber, and Patrick Allan, and folded in my own two cents, to come up with How to Sound Smarter's guide on how to make a toast.
WHAT TO SAY
1. Connect with the people you're addressing
The easiest way to connect with others at an event is to describe what your audience and you have in common.
The easiest way to do that?
Mention the event you're attending and why.
Many sources suggest beginning with a joke.
But if you're not particularly funny, and especially if you have to come with a few words on the fly, I recommend avoiding the introductory joke.
If you opt for opening with a joke, be sure that:
a. the joke is appropriate for the event, and
b. the joke won't embarrass anyone at the event, especially the honoree.
2. Share your ties to the honoree
Okay, if you're the one making the toast, it's not your night to shine.
But the other people in the room need to know who you are. Right?
This is where you share something about yourself while emphasizing your ties to the person(s) you are toasting.
Remember, it's not about you here!
3. Talk about a turning point or crucial event
Tell a brief story highlighting when:
the bride and groom fell in love
the soon-to-be-retiree was promoted to a career-changing position
you decided to write your first book, which lead to an award-winning career
You get the idea.  🙂
4. Raise your glass
Invite all in attendance to raise their glass with you.
Manners, please. Be sure to thank everyone for their attention, too.
HOW TO SAY IT
Regarding the delivery:
1. Keep the audience's attention. How? Use short sentences.
 This will keep you from droning on and on and on …
Grammar tip: Short sentences are just that—short: subject + verb + direct object.
Avoid using compound sentences and lots of long phrases.
Here's an example from an excerpt of an award acceptance speech:
Instead of:
When I began writing four years ago, I never dreamed that my work would win multiple awards, and I would get to travel the globe giving speeches multiple times each year because I never took a creative writing class in my life.
Try:
I have never taken a creative writing class. But four years ago, I decided to give writing a try anyway. I never dreamed that my work would win multiple awards. Or that I would get to travel the globe giving speeches.
2. Build on your strengths
After their big night, the honoree will want to reflect on the accolades and praise you shower them with.
So make it memorable!
How do you do that? Use your strengths to make a common message sound new and different.
You don't have to tap dance or juggle.
But if you're a good baker, you could give a recipe for a healthy marriage.
If you're a grammar queen, you could use a list of grammar do's and don'ts for an enjoyable retirement.
If you're into cars, you could talk about the key components that went into the award-winning product, and how they work together, just like key parts of a car work together to make it run properly.
3. Flatter, don't embarrass.
Some people attempt to inject humor, but at the expense of the honoree.
Not cool.
Just. Don't. Do. It.
In the infamous words of Porky Pig, "That's all, folks!"
About the Wanna Sound Smarter blog within a blog:
What is Wanna Sound Smarter? Each week for the next year, I, Jill Barletti, a.k.a. your fairy godmother of grammar, will highlight a common grammar mistake to avoid.
There are no long, boring grammar lessons.
I provide a quick and entertaining explanation of an important grammar point.
Why? Grammar is important, people!
Remember that grammar snobs are listening, and they deem you less intelligent for each and every grammar mistake you make.
Don't forget to connect! If you have a grammar-related question, please feel free to tweet me: @JillBarletti or @Snowflake_Story.
And now, a toast ...
to you for deciding you want to sound smarter!
Weekly doses of grammar goodness from your fairy godmother of grammar will have you sounding like the smartest person in the room in no time!
All it takes is a name + email address

We pinky promise not to share your info 🙂